10.05.09
The race results and the overall rankings for ECC 2009 can now be viewed in the Results section.
The ECC fleet regrouped, as racing came to a close, for the Prize Giving Party at Son Termes country house on the outskirts of Palma, Mallorca. Approximately 375 sailors attended the evening at which fine food, drinks and entertainment were served up.
The 2009 Commodore Craig Warrender presented the Overall Winners Trophy to Klaus Huetten, the new Commodore for 2010. We wish Klaus (below) and his crew all the best and good luck as the organisers for the next ECC event.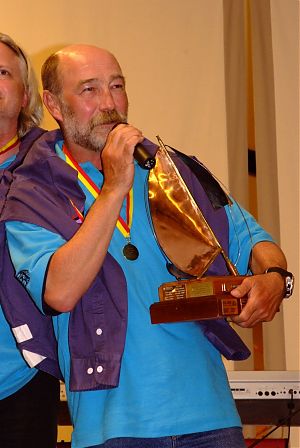 Once again thanks to the Organising Committee, Sponsors, Skippers and the crews who have all contributed to making ECC 2009 a great success.